⏱️
6
min read
The laminated brows look is so trendy right now, and it won't be going anywhere any time soon according to the hoards of fans it has – including a number of celebrities. We're always interested in what celebs are doing with their brows! After all, that's where all trends are born.
So let's look into brow lamination celebrity edition! Check out which celebs were seen rocking laminated brows, and learn a bit more about the treatment.
Quick Recap – What Is Brow Lamination?
Also known as the brow lift (no, not the surgical kind), brow lamination is a semi-permanent brow treatment which shapes your brows into a certain style. The style being – brushed up, smoothed out, glossy, slightly futuristic and totally stylish!
The treatment is actually something like a perm for your brows (only there's no curling!). It's a chemical treatment where the brows are treated with 2 solutions: 1 that straightens the brow hairs and makes them easy to manipulate, and 1 that neutralizes the previous step and finalizes the look.
The now softened brows are brushed upwards, creating thick, lush arches that can double the thickness of your brows. This is why it's a great option for people with relatively thin brows, but can also look amazing on naturally thick brows.
The effects of the treatment last for about 6 weeks, or until all the brows that were treated fall out and are replaced with new ones. The brows will keep the soft, easy-to-manipulate consistency until they fall out, but you have to keep brushing them upwards to keep the volume.
The treatment is really quick, simple and safe. There's not much aftercare involved, and the only common side effect is brows getting a bit dry (find out how to rehydrate them here).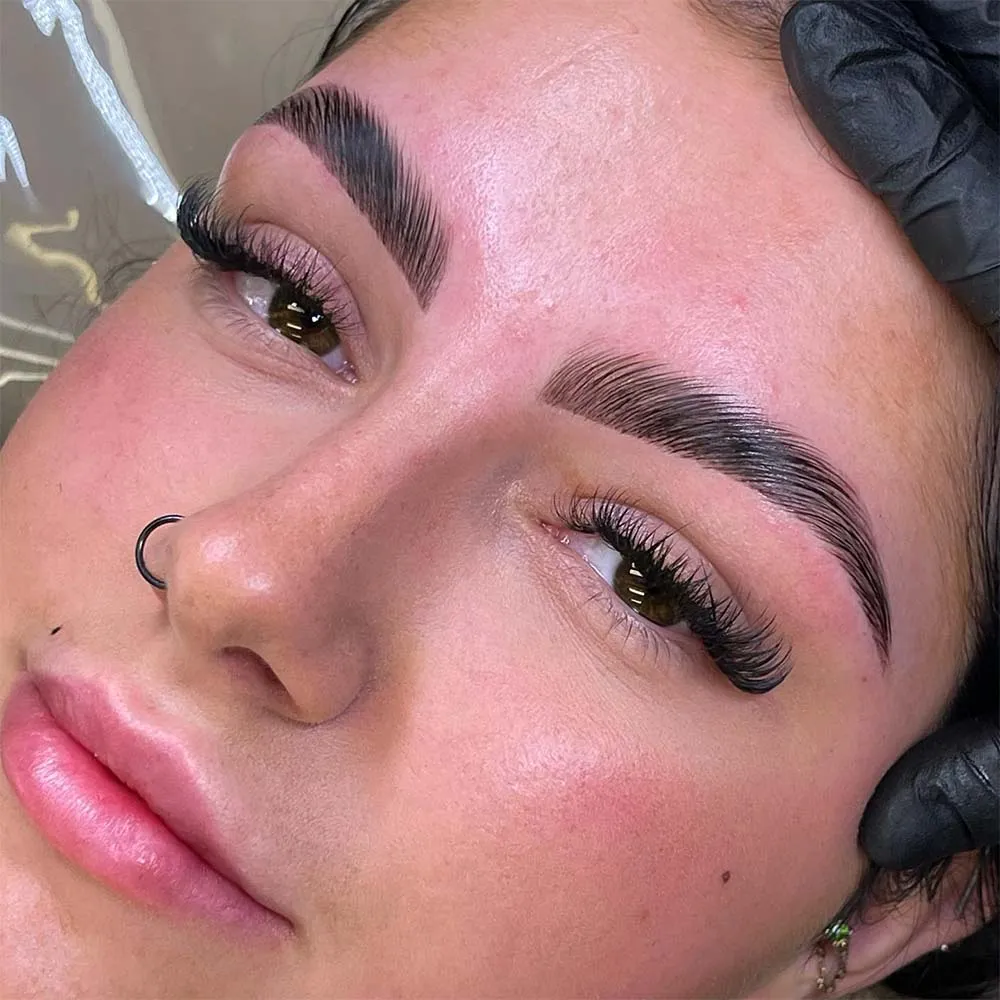 Image source: Instagram @_browenvy
List of Brow Lamination Celebrity Results
Brow lamination is a treatment popularized on the internet, mainly by Gen Z internet celebs, so don't be surprised to see the look on a bunch of influencers, TikTokers and YouTubers. Scroll down to see some celebrity brow lamination results!
Cardi B
If there's one A-lister we know for sure will try any beauty treatment available, it's Cardi B. Always styled to perfection, Cardi's eccentric extravagant persona draws attention wherever she's at, but at the 2021 Grammy Awards, all eyes were on Cardi's brows.
For her performance at the ceremony, Cardi went with a brownish 90s lip and sculpted very-much-2020s brows.
Generally on the thinner side, her brows were laminated and brushed upwards and sideways. The tails were sharply tapered, and instead of glossing them up, her brow stylist allowed the texture of the lamination to shine through.
The shape complemented her snatched makeup look perfectly – it was like an instant facelift!
Image source: Instagram @skinmaestro
Selena Gomez
If there's one fact we filtered out from the blown-up Selena Gomez vs Hailey Bieber drama that kicked off 2023, it's that Selena is a fan of eyebrow lamination and does it from time to time.
The Eyebrow Gate, a flat-out war between Selena's and Hailey's fans, was kicked off when Selena shared how she overlaminated her brows on her IG story and her TikTok. 
She showed off her brushed up brows that, we have to agree, look over processed and like they need a good dose of nourishing serum. As long as they're not so overworked they start falling out, brow hairs can be revitalized from a drying brow lamination relatively easily.
Now that we have confirmation Selena is a lamie-fan, we can look forward to seeing her beauty looks knowing at least one of her beauty tricks!

Image source: TikTok Screenshot @selenagomez
Noah Cyrus
Sleek and subtle, natural and elegant brow lamination and tint for Noah Cyrus!
Lately, we've been seeing Noah rock the no-brows look, bleaching her brows so they blend with her skin.
But if you scroll down her feed, you'll see that brow lamination was her go-to brow styling, but she never went too wild with it. Her brow stylist always kept her lamies tidy, and added a tint that would stain the skin underneath, for a shaded effect.

Image source: Instagram @skinmaestro
Latto
Latto likes her makeup bold, and dramatic, so her brows have to match! Her look for the 2021 Rolling Loud performance included big lashes, a pop of cobalt blue eyeliner, cappuccino lip liner – and a brow lamination to top it all off.
Her brow stylist kept the color of her brows a rich brown that balanced out the bright color on her eyelids, and shaped them into a sharp, polished, rounder arch with lamination.

Image source: Instagram @skinmaestro
Lizzo
Lizzo isn't afraid to experiment with her look in general, but when it comes to her brows, she mostly sticks to more natural-looking enhancements, and just plays around with the shape of her arches.
With lamination, she went for a fluffy look without tinting. The treatment really made the most of her natural brows.
Katie Price
Katie Price is one of those celebrities you've definitely heard of but you may not be 100% sure what they're famous for. Well, one thing this media personality and model is definitely recognized for is her extra esthetic, and her brows reflect her maximalist vibe.
A few years back, Katie got her brows (and lip liner!) tattooed. She went for thick, straighter arches with some serious volume.
But in April 2022, she had her brows further glamified with a brow lamination (plus some wispy volume lashes). The lamination gave her brow tattoo some extra texture on top and visually thickened the heads of her brows for some balance.
Image source: Instagram @haus_of_lash_
Good Trouble's Priscilla Quintana
This up-and-coming actress is the one to watch! Although we could say her career is still in its early stages, Priscilla Quintana is making a name for herself in Hulu's Good Trouble.
Off the show, her style is laid-back, California cool girl – no-makeup-makeup looks, glowy skin, that whole thing. So a brow lamination was a logical step!
She went for a fluffy look without the tinting add-on. A subtle yet effective enhancement that matches her style perfectly.
Image source: Instagram @browdownstudios
Model Alexis Ren
This social media personality with millions upon millions of followers across every platform is a true fitness freak, so it's only natural she'd look into some sweat-proof beauty enhancements!
Alexis likes her brows and lashes fluffy and lifted, so she keeps coming back to brow lamination and lash lifts. The stunning 25-year-old is a Gen Z favorite and these semi-permanent enhancements are the perfect fit for her.
Manny MUA
To end this list, here's an example of a DIY brow lamination gone, well, not so great.
Manny MUA is one of the OG beauty YouTubers. If there's a beauty hack, he's probably tried it at some point. So a while back, Manny went through the whole wet and gooey (quote – unquote) 4-step DIY brow lamination process. His brows looked kind of nice at the end of it – fluffy and bushy – but, in his words, they felt like brittle cookies.
What happened to Manny was overprocessing, the main danger of DIY brow lamination, followed by ignoring the aftercare.
Doing a professional chemical treatment at home entails the risk of leaving things on for too long, and with brow lamination, even an extra minute can be super drying. To top it off, Manny decided against wearing the nourishing oil, wiped it off (getting his brows wet) and denied his arches the much needed emergency moisturization.
If only Manny had consulted PMUHub beforehand… Head over here to learn how to do an at-home brow lamination right.
Image source: YouTube screenshot Manny Mua
Wanna Copy Your Fav Celeb?
If you like the results brow lamination celebrity style and you're tempted to try it, we say go for it. Just make sure to get familiar with the treatment in our Ultimate Brow Lamination Guide!
Cover image source: Freepik