⏱️
5
min read
Permanent makeup for eyebrows has been extremely popular for a while now and it seems everyone is getting some brow work done! It's the ultimate way to solve a whole range of brow issues, including very light, almost invisible brows people with light hair and skin sometimes have.
However, blonde people are more reluctant to get PMU, fearing they'd end up with unnaturally dark, very obviously touched-up arches.
PMUHub is here to shatter the misconception and assure all blondies that a blonde eyebrow tattoo can look great!
Why Is a Blonde Eyebrow Tattoo a Good Idea?
People with naturally blonde hair often have brow trouble. Along with golden locks also come golden eyebrows, which are often so light they may even be invisible, no matter how thick they are. Eyebrows are a very important feature, and prominent brows are a huge trend.
So obviously, we all want them to look perfect, and that doesn't only imply the shape, but also their thickness and color. People who have blonde eyebrows hardly ever go a day without drawing them on with makeup, and that can get quite annoying. Plus, they may have trouble finding just the right shade.
A cosmetic eyebrow tattoo can give anyone the brows of their dreams, including blonde clients who have very light brows.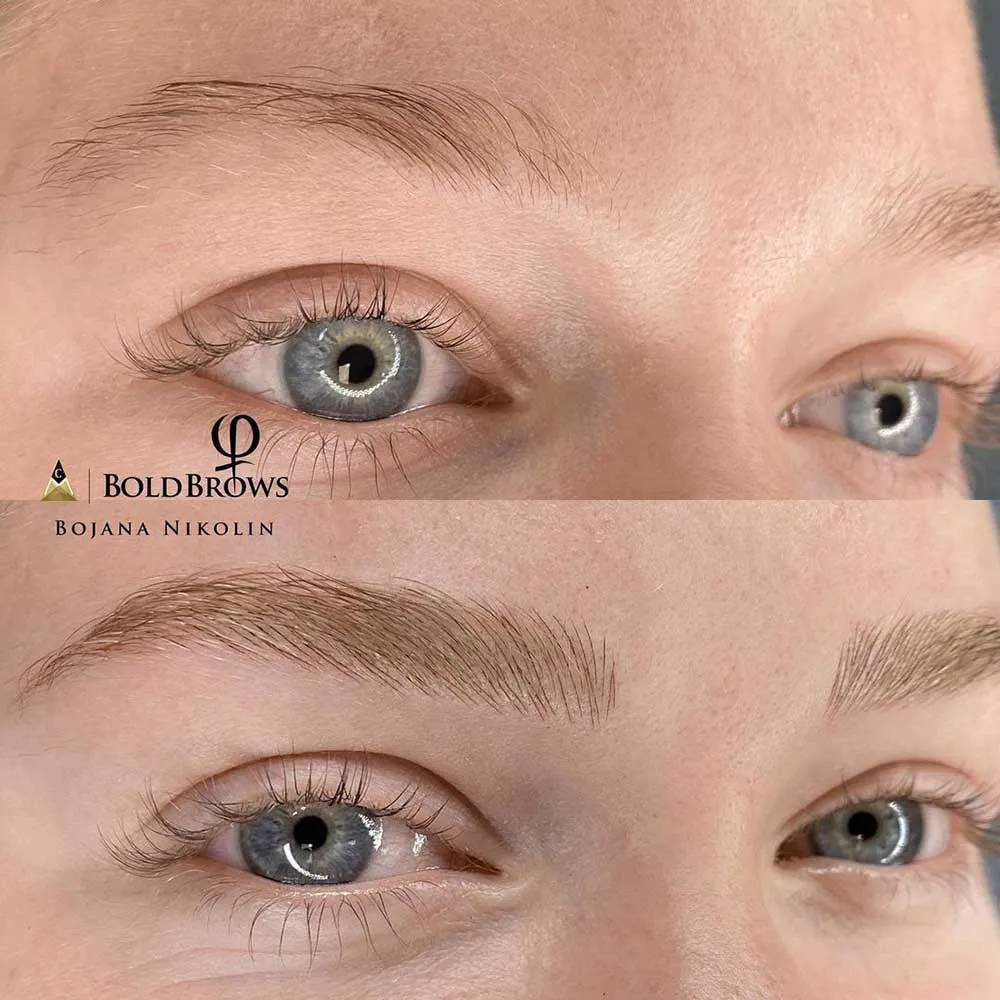 Image source: Instagram @phibrows_by_ana
What Colors Work Well for a Blonde Eyebrow Tattoo?
Getting the color right is really the only challenge of doing a blonde eyebrow tattoo compared to doing other hair colors.
When choosing the right shade for your eyebrow tattoo, explore some pictures of blondes with great eyebrows and show your artist what look you would like to go for. You can also come to the appointment with brow makeup, to show the artist how you usually fill in your eyebrows.
The artist will assess your skin tone and undertone and choose the best pigment shade. A skilled artist will know how to choose the right shade that won't turn orangey or too ashy once the brows are healed.
It's better to go a bit lighter at the first appointment and add more color at the touch up session, if needed.
There is a wide range of pigment shades to choose from for a blonde eyebrow tattoo, which can be further mixed into a customized shade.
It's important to note that every pigment looks different once healed – they lighten up and may become warmer or cooler – so you shouldn't judge the color until the healing process is over.
What Are the Options?
Brow tattoos come in many styles, and most styles work equally well for all hair colors, with the exception of ombre powder brows, since the lightness of the pigment makes it hard to achieve the ombre gradient
Let's go through the best options.
Microblading
Microblading adds hair strokes into the arches which look like natural hairs, creates the best arch shape for your features, and darkens them.
It is done by opening up the skin in thin incisions and filling them with PMU pigments. Once healed, these strokes blend with natural hairs and look ultra realistic. Microblading blonde eyebrows can look terrific with the right pigment shade.
Just bear in mind that microblading isn't a great option for oily skin, as it fades quicker and may blur.
For more information on microblading, head over to this guide.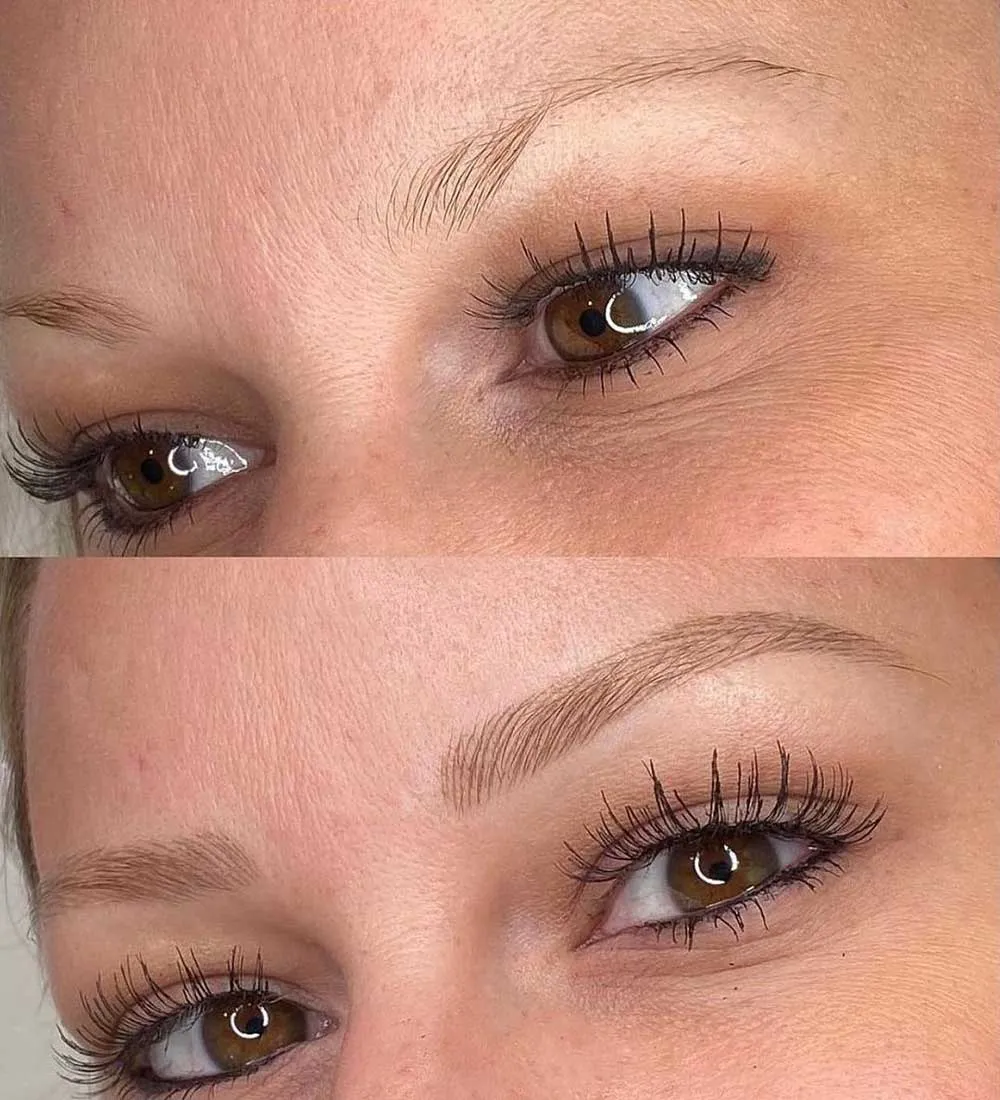 Image source: Instagram @thebarasourcils
Nano Brows
This treatment gives results very similar to microblading, but it's done with a machine. The nature of machine application makes this treatment suitable for all skin types, even oily skin.
The strokes are somewhat thinner and more delicate.
For more information on nano brows, check out this guide.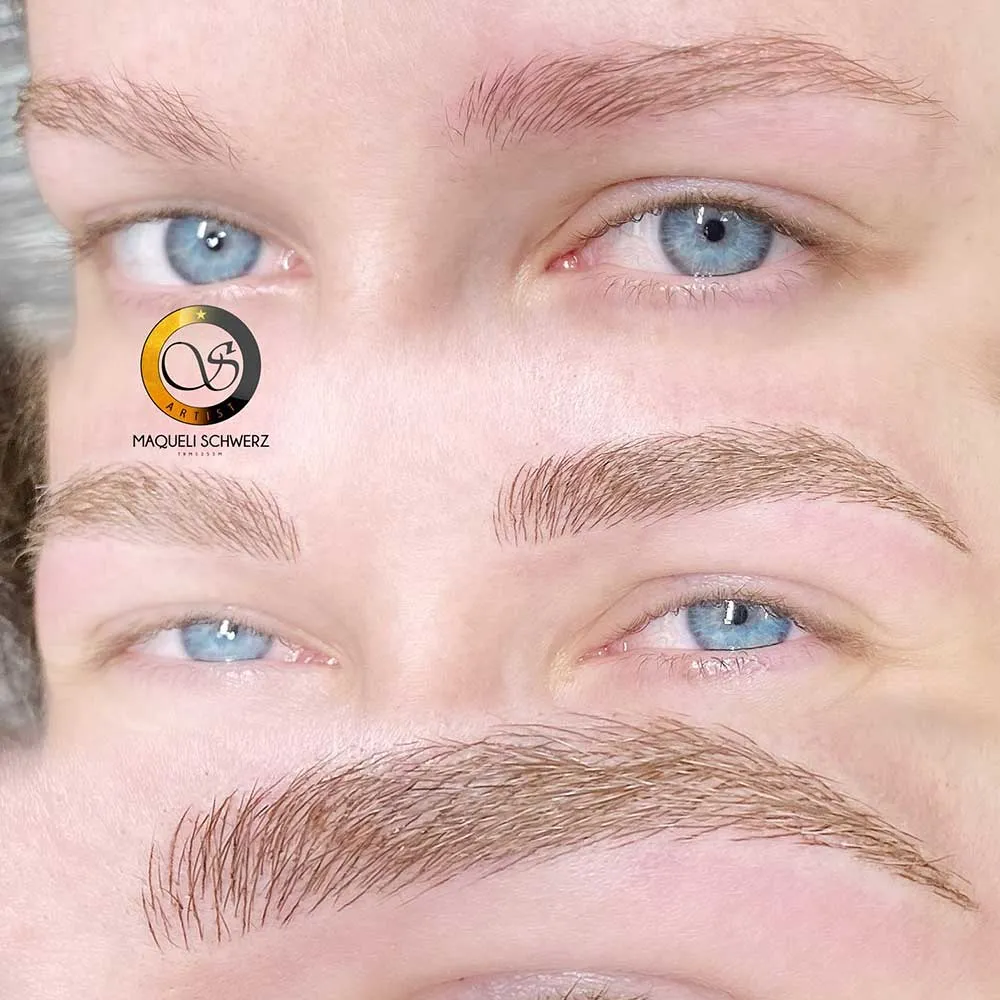 Image source: Instagram @studiomaquelischwerz
Combo Brows
Combo brows combine hair strokes done manually or with a machine with shading between them. It's a great blonde eyebrow tattoo option, since it gives a more prominent look, like you're wearing a bit of makeup (which you're probably used to wearing).
We also have a guide through combo brows! Check it out here.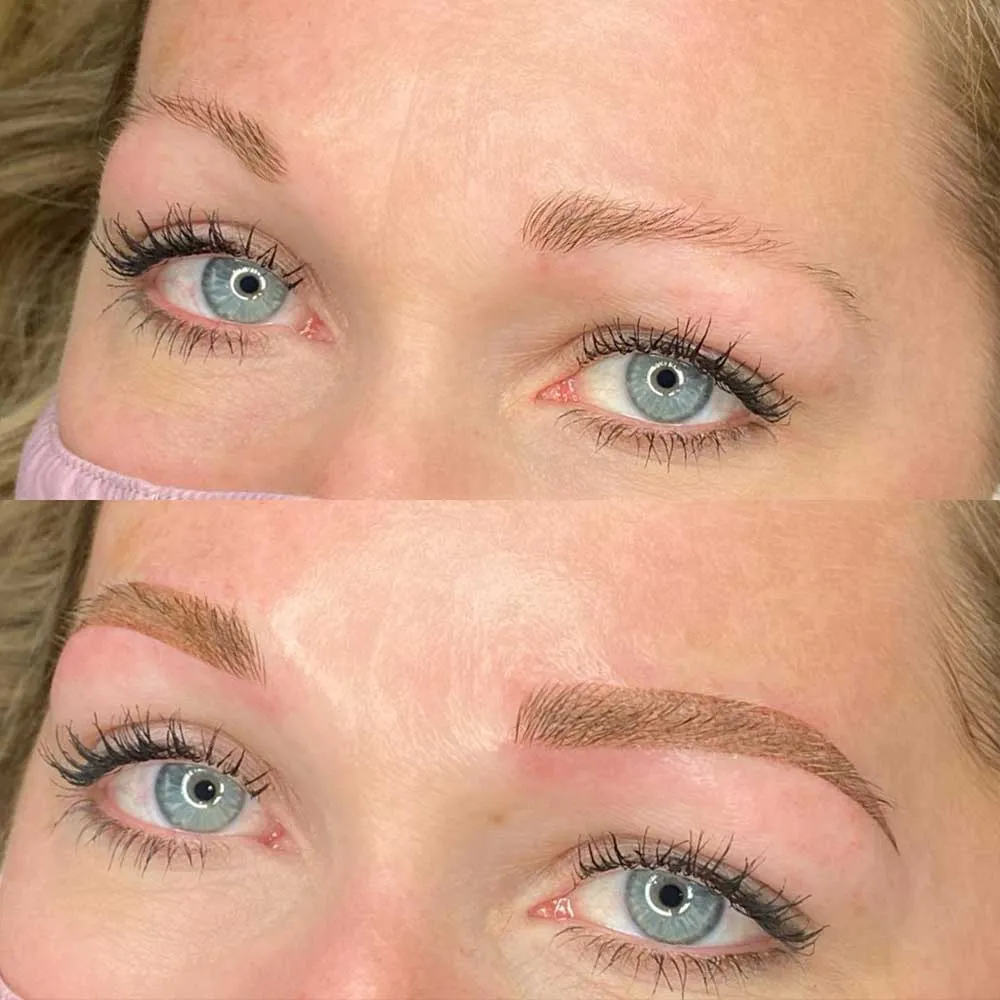 Image source: Instagram @emilyink_
Powder Brows
No strokes, just shading in the color you want. We recommend a rich honey tone!
Powder brows give a brow powder sort of look. This is a good blonde eyebrow tattoo option for those who have enough brow hairs to make it look more prominent. 
You can find more information here.
Image source: Instagram @kendra.neal.studio
PMUHub Tip
When looking for a PMU artist, check out their before and after photos and choose the one who has a lot of experience in doing blonde eyebrows. That way, you will be sure they will choose the right pigment shade for you.
How Does a Blonde Eyebrow Tattoo Heal?
It's very important for clients to understand that any brow tattoo doesn't show its true color until 6-8 weeks after the treatment, once the skin has healed and the pigments have settled. This applies to any color.
Freshly implemented pigments look very dark in the first days after the treatment. The pigments oxidize in the skin, and scabbing may appear over the strokes, making them look darker. Then, once the scabs fall off, the pigment underneath may look lighter than you want it to, and you may get worried that the treatment didn't work.
This is normal – it's just how PMU heals.
Since pigments are deposited shallow into the skin, close to its surface, not all of it will "take". The scabbing will take away a certain amount of pigment. New skin that's formed over the strokes is very light, and it takes some time for it to darken up.
The color will re-emerge (but it won't be as intense as right after the treatment) and reach its final color over a period of about 4 weeks, at which point the shade should be assessed, and you can go darker at the touch up if you want to.
Generally, the color will lighten 30-40% over the healing period, so you shouldn't panic if your blonde eyebrow tattoo looks too dark the first week.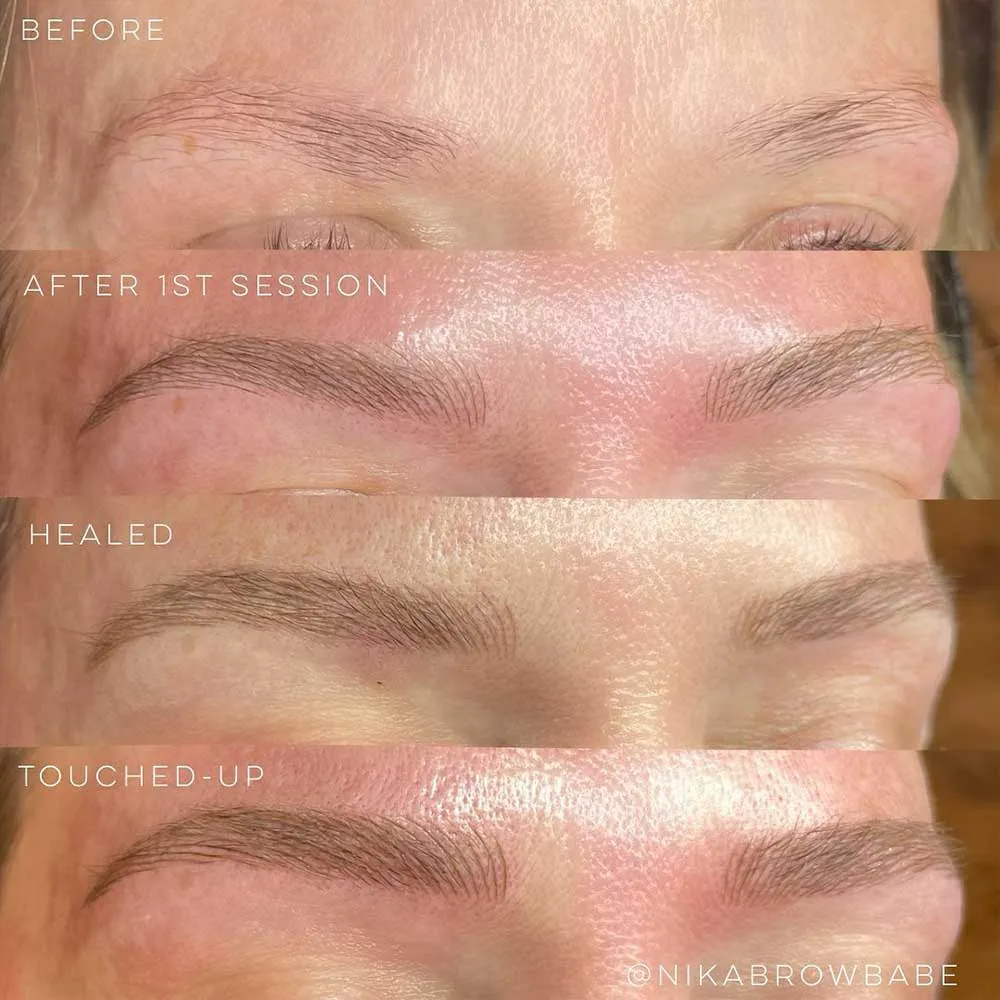 Image source: Instagram @nikabrowbabe
Final Word
The average longevity of brow tattoos is from 18 months to 2 years depending on style, but a blonde eyebrow tattoo may disappear a bit quicker than, for example, dark brown tones. This doesn't mean the pigments are fading faster, it just means that the color will blend into your skin tone as it loses intensity.
The color can be refreshed and darkened back up with a quick touch up, but try not to get color boosts too often – once a year is ideal. Getting your bows retouched every few months can overwork the skin and cause permanent scarring.
Cover image source: Freepik