⏱️
7
min read
Stretch marks can appear from a wide variety of factors. They're a result of our skin stretching so quickly that there's no time for it to adjust to the change. The main causes are sudden changes in weight, a growth spurt, pregnancy, or similar conditions.

No matter where they came from, they're a completely natural and normal response our body has to changes. Still, many people choose to remove theirs due to cosmetic reasons.
We're here to take a look at best treatments for stretch marks, either professional or at home. Let's get started!
Best Professional Treatments for Stretch Marks
Professional treatments for stretch marks are quite versatile, and they fall either in the category of micropigmentation (aka cosmetic tattooing) or skincare.
Here are your options!
1. Micropigmentation Stretch Mark Camouflage
Scar camouflage refers to a combination of micropigmentation treatments that aim to decrease the visibility of any scar tissue – stretch marks included. If your stretch marks are fully healed and lighter than your natural skin tone, you can camouflage them!
The treatment works like a cosmetic tattoo, where the scar is injected with pigment that best matches your skin tone which makes it almost completely invisible.
The pigments are supposed to fade away after a couple of years, but the longevity of the results varies from person to person.
Click here for more details about the micropigmentation stretch mark camouflage treatment!

Image source: Instagram @rawstudiojax
2. Brazilian Stretch Mark Camouflage
The main difference between the traditional and the Brazilian stretch mark camouflage is that this one is permanent, as it uses permanent ink, just like any body tattoo.
This has its pros – you won't need maintenance sessions every couple of years. But we should note that there's a possibility of the ink changing color over time.
Read all about Brazilian stretch mark camouflage here!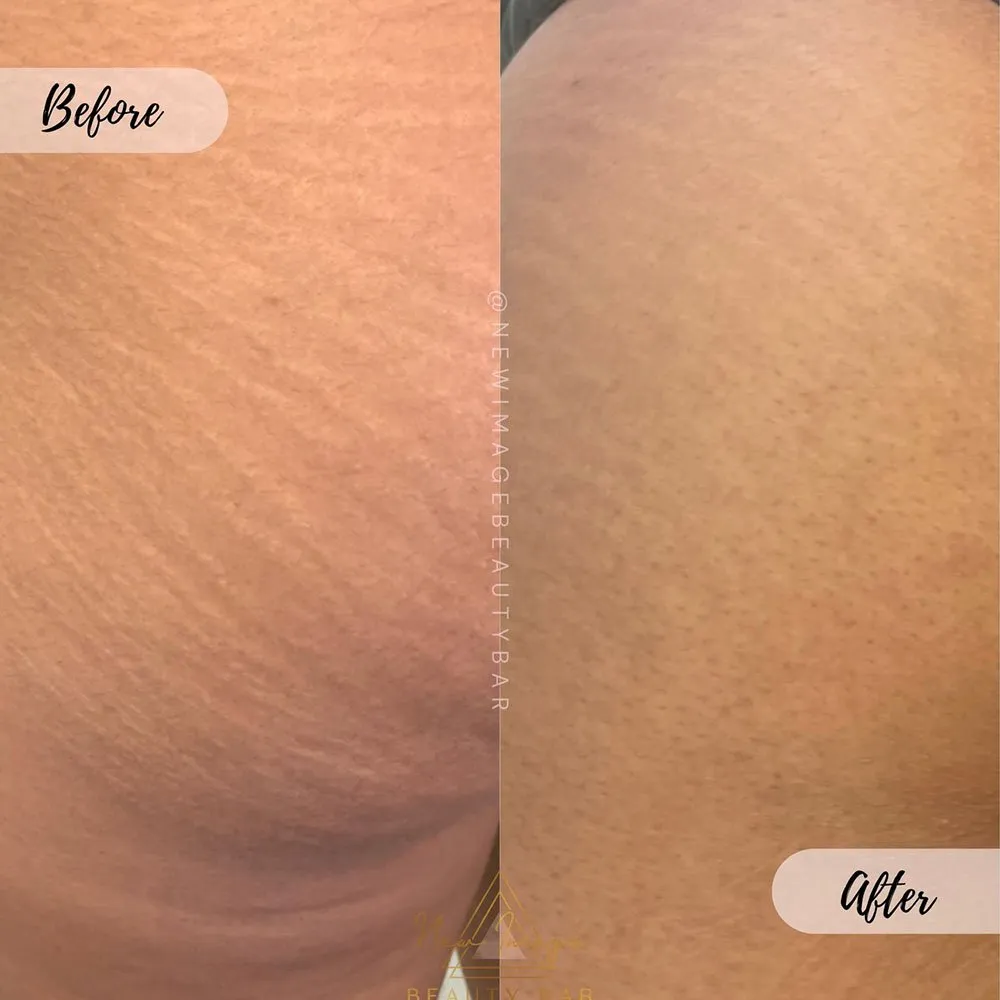 Image source: Instagram @newimagebeautyba
3. Dry Tattooing
This one is similar to the previous two in that a needle is used to puncture the skin. However, this method is inkless – it can be done without injecting any product into the skin, or with specialized healing serums.
This treatment won't fully cover up or remove the stretch marks, but it will improve the structure of the skin to make them much less visible.
Stretch marks are treated from within as opposed to camouflaged with ink, as thin needles stimulate collagen production in the skin. The result causes the discolored scar tissue to gain a more natural firmness and tone that is permanent.
Click here for more info on dry tattooing!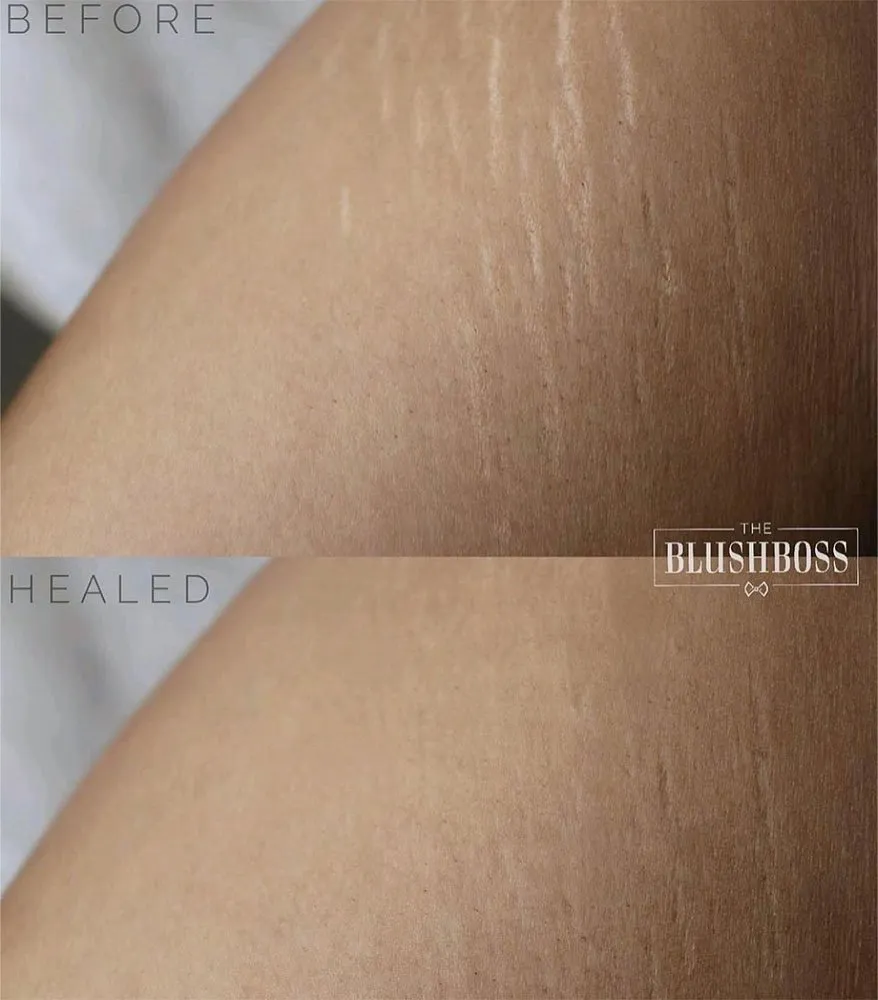 Image source: Instagram @kissnconceal
4. Microneedling
This process involves using specialized tools – either a derma roller or a dermapen – to create microchannels in the skin through which serums are introduced.
Similar to dry tattooing, microneedling creates tiny traumas which, when combined with serums, trigger the skin's natural healing and rejuvenating powers and can help you get rid of stretch marks.
Follow this link for an in-depth guide!
You can also do microneedling at home with a DIY roller or a suitable derma pen, but you may not get as intense results.

Image source: Instagram @lidijatesic_skincare
5. Laser Skin Resurfacing
Laser skin resurfacing can be used to treat all kinds of imperfections. It also works by affecting controlled trauma to the skin to improve its structure, only it uses laser energy.
This treatment requires more expertise than the other ones we mention here, so if this looks like the right option for you, make sure to pay special attention when choosing a licensed plastic surgeon to be your therapist.
Different laser treatments are used depending on the condition, so click here to learn more!
6. Microdermabrasion
Microdermabrasion involves using a rotary tool to remove the outermost layer of the skin. The procedure cleanses and rejuvenates the skin, getting rid of any and all surface-level imperfections.
The abrasion also inflicts microtrauma to the skin, triggering its natural production of collagen and elastin (but not as intensely as the procedures above).
Check out a detailed guide here!
7. Fibroblasting
This treatment is done with a plasma pen that blasts the skin with tiny amounts of energy, triggering the collagen production process and making the skin smoother and younger-looking.
It works on different kinds of scars as well, so it's a pretty popular solution for stretch marks!
Get more details on what fibroblasting looks and feels like here!

Image source: Instagram @fibroblast_by_ginamarie
Best Stretch Mark Removal Treatment at Home
If you don't want to get a professional treatment for whatever reason, here are some fixes that you can do at home with simple and accessible ingredients!
We have to note, though, that DIY options may not work as well as you'd like them to, and that you have to repeat the ritual over and over again, consistently, if you want to achieve anything.
8. Body Scrubs or Dry Brushing
Stretch marks are essentially softer scar tissue on the surface of your skin. This means that using physical exfoliation to gradually renew the top layer of skin can be of help when it comes to decreasing their visibility.
You can use sugar or salt as exfoliators at home. Ground coffee also works well. The recipe can be anything you want – either combine them with an oil, or with pure water and use it as you would any other scrub.
You can also try dry brushing with a body brush, just make sure you're not too aggressive with it.
But be aware that this is not a one-and-done option. You need to be consistent with your scrubs if you want to achieve any effect.

Image source: Freepik
9. Try Natural Oils
When it comes to the best remedy for stretch marks to try at home, you can try cocoa, almond, or coconut oil. Or a blend of all those.
Lightly massage it into the affected area and leave for at least 30 minutes, but it's better if it stays on overnight. If you're not too comfortable using oils, all these come in the form of body butter, which is a lot less oily.
If you're serious about trying this remedy, be ready to commit to daily application.
10. Get Some Apricots
If you can find some apricots at your local grocery store, you can try cutting up a few, deseeding them, and lathering them onto your stretch marks.
It's best to leave it on overnight like a mask, but its natural sugars will cause stickiness. If you don't like that, rinse it off after about 30 minutes.
Again, one session of this probably won't do much. You have to stick with it!
11. Try a Mix of Cucumber and Lemon Juice
While we're on the topic of groceries, mixing equal parts cucumber and lemon juice can have a brightening effect on the skin and help the stretch marks fade away. Apply the concoction onto the marks and rinse it off after 10 minutes
12. Use Egg Whites
Separate the egg whites from the yolk and apply them to your stretch marks. The protein in them is great for tightening skin!
For the best results, leave it on overnight or at least 30 minutes.
13. Best Products for Stretch Marks
The simplest ways to combat stretch marks are usually the most natural, as you've seen in the section above.
However, if you aren't really seeing the results you want from natural remedies and want to try out a different approach, here are our top picks for the best solution for stretch marks you can find in drugstores!
How to Choose Between the Best Treatments for Stretch Marks
All in all, you can embrace your stretch marks and wait for them to fade and become less visible over time. However, if that's not for you, there are different approaches you can take to speed up the process.
If you want to go all-natural, you can use lemon and cucumber juice, apricots, or natural oils to massage the area. Or, invest in a specialized body butter or cream. But the effects of at-home remedies can only take you so far!
Ultimately, if you want quicker and more certain results, there are several professional skin treatments you can undergo to fix your stretch marks.
Cover image source: Freepik