⏱️
6
min read
This is an objective, non-biased article. We base our product choices on various factors, such as product reviews, ingredient analysis, and overall reputation of brands. It does, however, contain affiliate links for featured products.
Microbladed eyebrows, or any other PMU for that matter, require extra attention and protection – right after the procedure, but also over time.
If you want to keep your results looking fresh and vivid for as long as possible, proper maintenance and protection are crucial. One critical aspect is protecting your brows from the sun's harmful UV rays, so SPF plays a huge role here.
But you may not be sure what's the best sunblock for microbladed eyebrows.
We've compiled a list of the best sunscreen for microbladed eyebrows and other PMU procedures for you to choose from.
Can I Put Sunscreen On Microbladed Eyebrows?
Yes, but not right away.
You should avoid applying it directly to your brows the first 7 days or so following your PMU procedure, to give the incisions or punctures to close up. During this time, just avoid exposing your brows to the sun.
After 7-10 days, you can (and should!) start applying sunscreen.
If you know you'll be spending a long time in the sun, take extra precautions, too.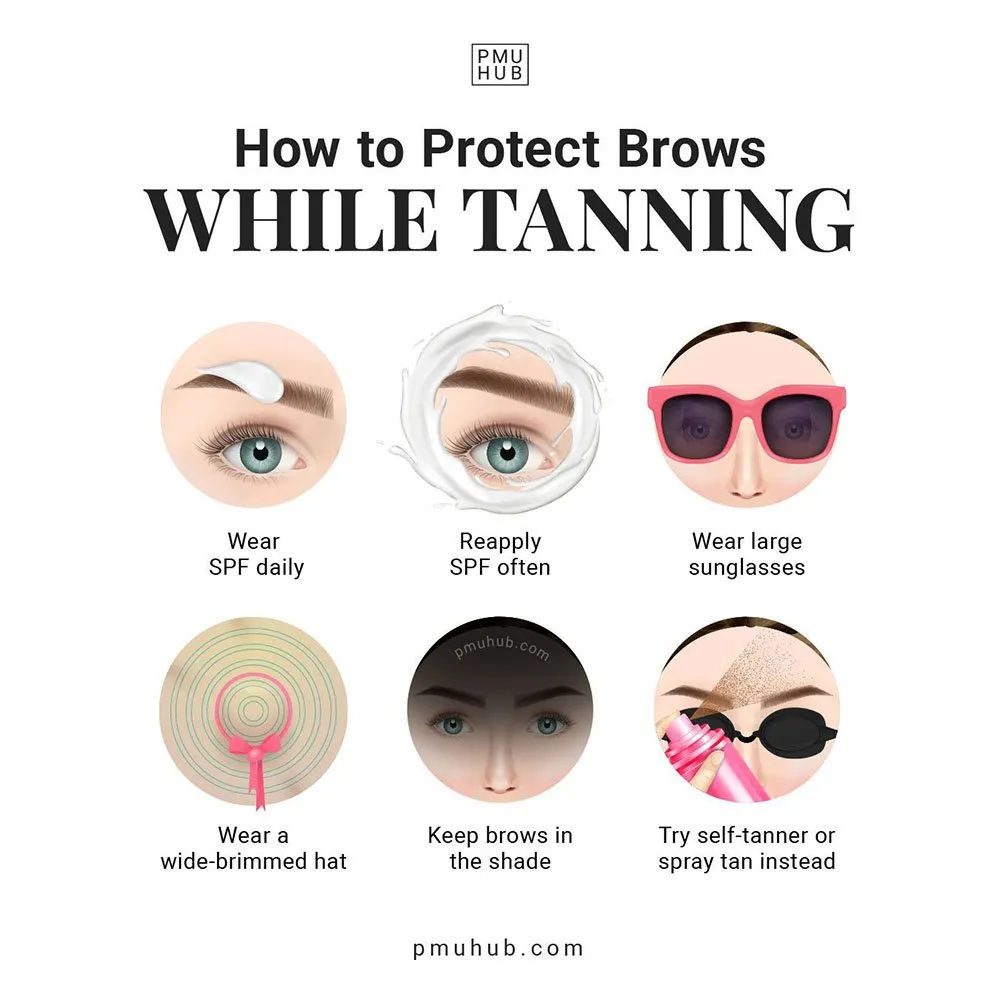 Image source: Instagram @pmuhub
What's the Best Sunscreen for Tattooed Eyebrows?
We understand choosing the best sunscreen for microbladed eyebrows may be difficult. So, here are our top picks for the best sunscreen for eyebrows after PMU:
Makra Tattoo Care Sunscreen SPF 30+ Ointment for Tattoo Sun Protection
This sunscreen is made specifically to help tattooed skin so it provides a broad spectrum of protection and moisturizes the skin deeply at the same time.
Plus it checks off all other important boxes: it has SPF 30+ and it's formulated to be water and sweat-resistant, yet it doesn't leave a white cast! So it might be the best sunscreen for microbladed eyebrows overall.
Phi Tattoo Sun Protection Cream SPF 50
Phi Tattoo sun protection cream was formulated specifically with microblading and PMU in mind. It preserves the color intensity of the tattoo and helps protect the tattooed area.
SPF 50 protects against both UVA and UVB rays and the cream also helps moisturize and nourish the skin, without being oily or disrupting the healing process.
Phi Tattoo Sun Protection Cream
Mad Rabbit Defend Tattoo Sunscreen SPF 30
This SPF product is designed with tattoos in mind – but it's also packed with antioxidants and moisturizing agents that provide additional benefits on top of shielding your new tattoo from the sun's rays and environmental threats.
This mineral sunscreen is super lightweight, doesn't leave a white cast, and keeps your tattoo looking vibrant.
Aveeno Protect + Soothe Mineral Sunscreen Stick SPF 50
Designed with sensitive skin in mind, this Aveeno sunscreen stick is a gentle and non-irritating formulation, making it suitable even for freshly tattooed skin.
Enriched with nourishing ingredients such as vitamin E and oats, this sunscreen is hypoallergenic and free from fragrances, parabens, phthalates, and dyes.
On top of all that, being in stick form makes it very convenient for reapplication, especially on the go. You can just swipe it over your tattoo, without leaving your hands greasy or sticky.
EltaMD UV Clear Face Sunscreen SPF 46
This Elta MD sunscreen is dermatologist-approved for all skin types and tones – including sensitive, so it's also suitable for freshly tattooed skin.
It's fragrance-free, paraben-free, oil-free and non-comedogenic, so it doesn't irritate the skin at all. This product in particular is #1 dermatologist recommended, so it's praised as one of the best sunscreens overall, let alone one of the best sunblock for microbladed eyebrows.
How to Choose the Best Sunscreen for Microbladed Eyebrows
When it comes to selecting the right SPF for your microbladed brows, opt for a sunscreen specifically designed for sensitive or tattooed skin.
Just after your microblading session, keep your brows protected with a wide-brimmed hat or cap, and stay out of the sun. But as soon as the incisions close up, you can – and should! – start using sunscreen on them.
However, your new brows are particularly vulnerable, so it's better to choose something that's gentle and non-irritating to reduce the risk of any adverse reactions.
Look for SPF products that offer broad spectrum protection (which means they cover both UVA and UVB rays) and they should have an SPF 30 or higher to ensure adequate protection.
Important: Pay Attention to the Formula
When choosing the best sunscreen for microbladed brows for you, consider the formula. It needs to be suitable for your skin type, since you'll be putting it on your forehead.
Different skin types react better or worse to certain formulations, and seeing as SPF creams come in two different formulations – mineral and chemical – you should choose the one that suits your skin type better.
Essentially, the difference between these types lies in how they protect the skin. With chemical sunscreen, the light is absorbed into it, while a physical sunscreen reflects sun rays away from your skin back into the atmosphere.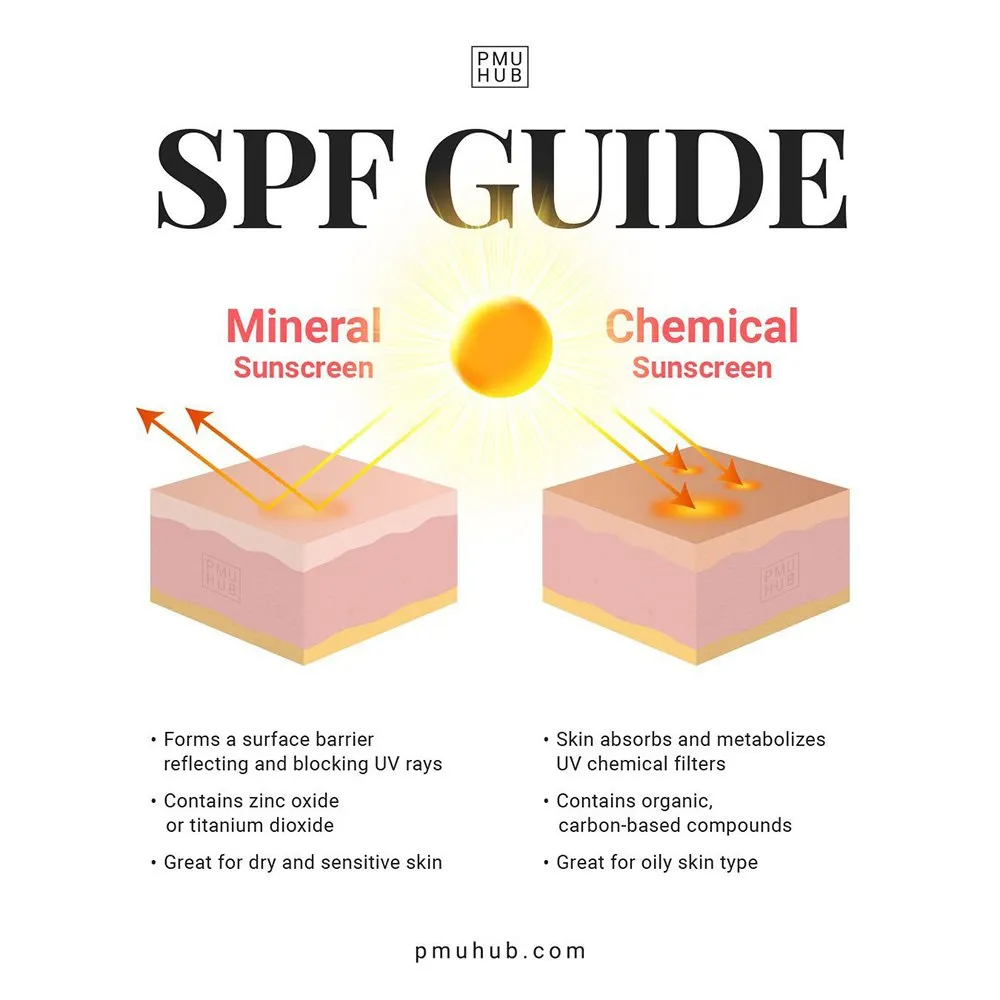 Image source: Instagram @pmuhub
So, Which Formulation Should I Choose?
When it comes to PMU, many people tend to overthink each ingredient leading them to question which type of protection is better.
This often boils down to questioning the safety of certain ingredients – most particularly asking Is zinc oxide safe for microbladed eyebrows? The answer is yes, it is.
Zinc oxide and titanium dioxide are ingredients often found in mineral sunscreens that act as a mirror on the surface of the skin, blocking UVB and most UVA radiation from entering your skin.
So zinc oxide only is it safe for microbladed brows, but this makes physical sunscreen the best form of protection for permanent makeup.
As for chemical sunscreens, while they are effective, most artists would advise physical sunscreens over chemical.
Why Is SPF So Important for Your Microblading
Sun protection is crucial after microblading or any PMU because UV rays can significantly impact the vibrancy and the longevity of the pigment.
Any unprotected exposure to sunlight can cause the pigment to fade more quickly, leaving the results dulled out. The brows are especially prone to fading in the first 6-8 weeks, so that's when you need to be extra extra careful to protect them.
But you aren't only risking prematurely fading the pigments, you're also risking permanently discoloring them.
If exposed to sunlight often, your brows may take on a blueish, pinkish, or orangey hue due to color shifts that happen when pigments, which are made up of several colors, react with UV radiation.
Over time, wearing sunscreen regularly will help prevent discoloration or fading.
You should be wearing SPF on the rest of your face anyway, so just put in an extra 20 seconds and coat your brows, too.
So, What Else Can You Do to Protect Your PMU?
Before your brows heal enough to allow the safe application of sunscreen, you need to avoid exposure to sunlight as much as possible. So, wear a hat and big sunglasses to help keep your brows in the shade as much as possible.
Ideally, you should keep up this regimen even after your PMU has healed because while SPF is an unskippable part of keeping your brows healthy and fresh, this will add extra protection to shield your skin from the sun's UV rays.
You can learn more about ways to keep your post-microblading brows protected here.
Cover image source: Freepik