The brow revolution that's been happening for about a decade now has brought about so many new trends it's hard to keep up. With so many celebrities and influencers rocking the full brows, over-tweezed, tadpole-shaped brows of the 90s are long gone.
That leaves us with room for experimentation and, if we can judge by last year's biggest brow trends, that's exactly what makeup and PMU artists have been doing.
The term caterpillar eyebrows used to refer to any brow arch that's super thick, with untrimmed hairs running wild. But in 2021, caterpillar eyebrows are a whole new trend, one that takes some effort.
So let's see what different styles of caterpillar eyebrows there are and how they can be achieved.
What Do Caterpillar Eyebrows Look Like?
There are two styles people think of when they say caterpillar eyebrows today. One is the extra-fluffy, messy, super-thick permanent brow branded as feathering tattoo brows by permanent makeup artists, and the other is a more subtly straight arch as seen on Kendall Jenner.
Let's look into each.
Caterpillar-Style Feathering Tattoo Brows
The feathering tattoo brows look implies a messy brow arch with very long hairs that grow in different directions. Something like the bed head hairstyle, only for your brows.
A few years back, some makeup artists had a flash of inspiration and decided to play around with their models' brows. The result was a brow that resembles a caterpillar – yes, the actual insect.
By dividing the brow arch horizontally into two segments, brushing the upper segment up towards the hairline, and the lower segment down towards the eyes, caterpillar eyebrows emerge from their cocoon. The fluffy hairs imitate the texture of a caterpillar, and the effect is a super-fun, Instagrammable brow.
This trend had its 5 minutes of fame and now emerges only now and then, mostly on runways. Luckily or unfortunately, that's on you to decide.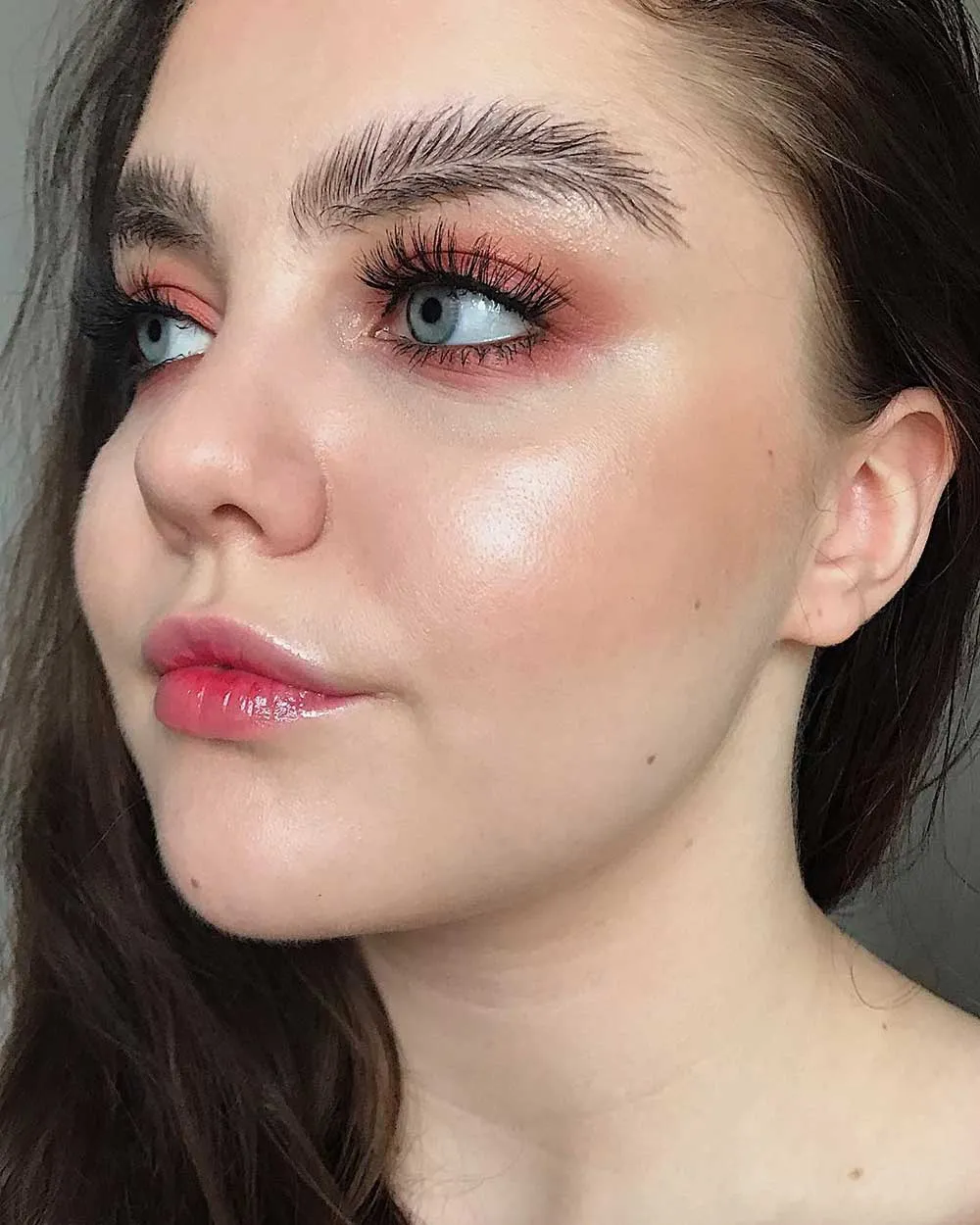 Image source: Instagram @stella.s.makeup
Thicker, Archless Caterpillar Eyebrows
The more up-to-date version of caterpillar eyebrows implies a more toned-down brow style that won't get weird looks on the street.
In the past few months, permanent makeup artists who do eyebrow treatments have been getting more and more requests for a specific brow arch shape: thick, straight brows that don't curve downwards, but rather point towards the temples at a relatively sharp angle.
This look was inspired by Asian brows. People of Asian descent naturally have a softer brow curve, so soft their brows sometimes look straight. This brow shape visually lifts the rest of the facial features, so many people try to recreate it.
Image source: Instagram @brow.una

But the straight, archless brow gained its popularity thanks to the biggest supermodel of the moment, Kendall Jenner, whose brows seem to be naturally straight, with a very soft curve.

Image source: Instagram @kendalljenner
How Can Caterpillar Eyebrows Be Achieved?
As with virtually any brow style, there are two ways to achieve caterpillar eyebrows: makeup, and permanent makeup.
Eyebrow Makeup
The range of makeup products for eyebrows is growing each day, and the formulas seem to be improving. They allow more precision, last longer, and are easier to use.
However, the straight look of the caterpillar eyebrows trend takes a very steady hand, and well-developed tweezing skills. Achieving this look basically has 2 steps:
Straighten the brow arch by tweezing out the hairs in the tail – the outer part of the brow closest to your ears – which curve downwards.
Draw on strokes on the lower edge of the arch with a brow pencil so you further soften the curve and straighten the arch.
It sounds simple, but if you draw on too many strokes the arches will look disproportionately thick in their middle part. Plus, the brow pencil you use has to be super-thin, otherwise, the look will turn out messy.
Permanent Makeup
Permanent makeup for eyebrows has become hugely popular in the past few years, and for a good reason. It offers a long-lasting solution that doesn't run or smudge in any situation while giving you the brows of your dreams.
With PMU artists more skilled than ever, they can truly fulfill all your brow desires. So creating caterpillar eyebrows with permanent makeup treatments is definitely possible, you just need to decide which technique you like best.
Feathering Tattoo Brows are a great option for a fluffy brow look inspired by nature. This technique implies drawing on long strokes that look like grown-out brows, so it allows for super thick arches with a breezy, messy look. For more information, read PMUHub's ultimate guide to Feather Brows.

Image source: Instagram @sakileenyc
Microblading can recreate almost any brow shape you want, while still looking quite natural. This technique recreated more subtle hair strokes that imitate all the features of your natural hairs, so the strokes can be placed anywhere around the body of the brow without looking out of place. For more information, read PMUHub's ultimate guide to microblading.

Image source: Instagram @brows_by_mdv
Powder Brows are another flexible technique, but unlike microblading, it gives a powdery look of wearing makeup. It is done by creating a misty shadow underneath the hairs, so it's generally not done too far out of the natural arch outline. Still, it can be used to straighten the lower edge of the arches. For more information, read PMUHub's ultimate guide to powder brows.

Image source: Instagram @powderbrows_artist_luis
So, Will Caterpillar Eyebrows Stick Around?
The thing with caterpillar eyebrows is that, much like their Lepidoptera counterparts, they are constantly transforming.
From an undesirable look in the 90s to an eccentric runway trend in the last couple of years to a toned-down trendy brow shape that can be adapted to anyone's features, the caterpillar has definitely become a butterfly.